Middlesex Institute for Lifelong Education for Seniors
M.I.L.E.S is an active program for mature adults ages 55+. Our instructors are from MCC and the surrounding community. Class subjects include personal enrichment, academic arts, and cultural enrichment. Come meet new friends with common interests and enjoy the beautiful campus at MCC! Keynote session is free and open to the public.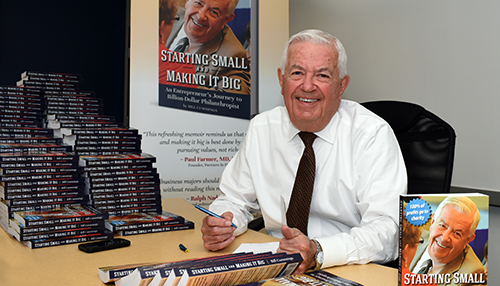 Spring 2019 Opening Session 
Wednesday, March 27, 2019 from 2pm - 4pm

Keynote: Bill Cummings
Starting Small and Making It Big:  An Entrepreneurs Journey to Billion-Dollar Philanthropist

Bill Cummings became a serial entrepreneur in earnest, and then a philanthropist, after first working all over the country with two national consumer-products firms. In 1964, he spent $4,000 to purchase his first real business, a hundred-year-old manufacturer of fruit-juice-beverage bases, which he quickly expanded by providing refrigerated dispensers and drinks to several hundred colleges and universities. With the million-dollar proceeds from the sale of that business in 1970, he founded a suburban-Boston commercial real estate firm.  Cummings Properties quickly grew from one small building to a portfolio of more than 100 modern buildings today. Along the way, he accumulated uncommon wealth, much of which he and his wife, Joyce, have been actively disbursing through Cummings Foundation, which they established together in 1986.  Bill and Joyce were the first Massachusetts couple to join the Giving Pledge, an international philanthropic organization founded by Bill and Melinda Gates and Warren Buffet.
Middlesex Community CollegeCafe East, Campus Center, Building 8591 Springs Road, Bedford, MA 01730Opening Session is free and open to the public. Refreshments served.
Spring 2019 Course Booklet

MILES Registration Form 


*Please note: All classes are 2p- 4p unless otherwise stated in the semester brochure schedule. All MILES members are able to access/park in any student parking lot. Parking passes are not required. Please do not park in visitor or staff lots. Most classes are held in Henderson Hall located right next to Student Parking Lot A.

PARKING INFORMATION

MILES classes are not eligible for tuition waivers.
Questions? Call 781-280-3570 or 781-280-3663 or E-Mail Us

Fee Schedule: Pay per class. Register for each course individually for a $15 per class fee with a maximum fee of $95 for the semester. Our enrollment staff will automatically calculate the maximum fee at $95 max if you register for more than 7 classes. For example:
1 class = $15
2 classes = $30
3 classes = $45
4 classes = $60
5 classes = $75
6 classes = $90
7+ classes = $95
Please provide a valid phone number and e-mail address when registering. To enroll call 1-800-818-3434.